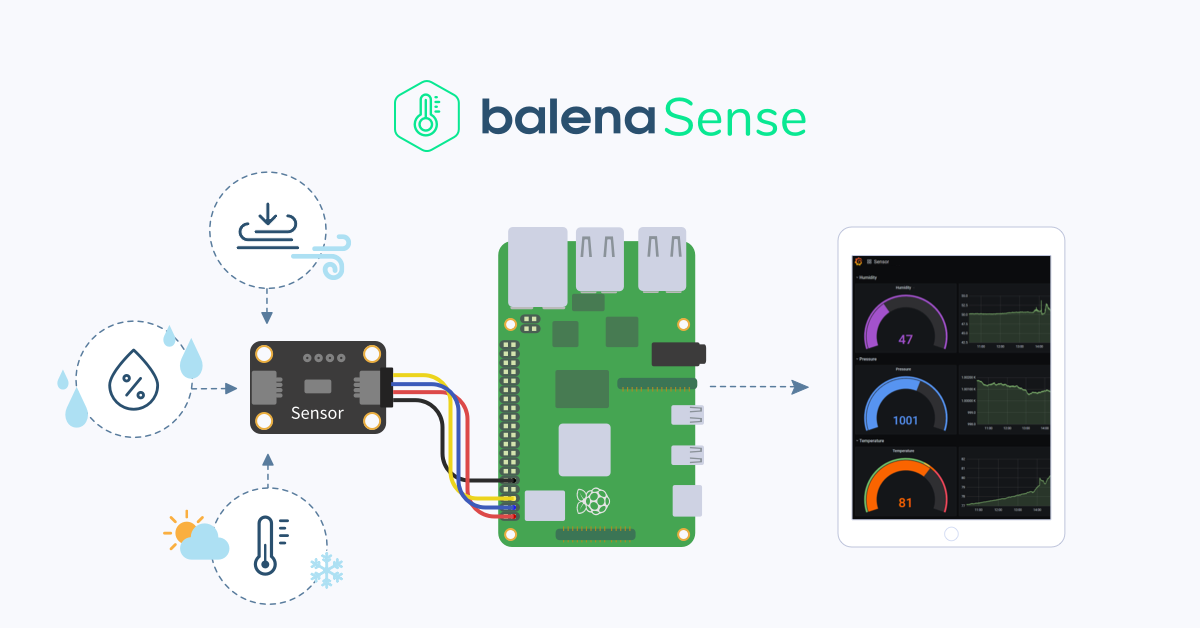 balenaSense is a Raspberry Pi balenaCloud starter project that takes readings from a supported sensor (such as the Bosch BME680), stores them using InfluxDB and generates a dashboard using Grafana. The Bosch BME680 is recommended as it includes sensors for temperature, humidity, pressure and gas content and is available on a breakout board from a few different places for around $10-$20.
We want to create a project that motivates users to build their own environmental sensor project whether for home or for professional use with privacy and customization in mind.
What changed?
Version 2 of balenaSense is built using blocks, which are intelligent, drop-in chunks of functionality. This is a major change from earlier versions of balenaSense which used a number of configuration files to tie together the InfluxDB database, Grafana dashboards and sensor readings. Blocks are designed to work together and use auto-discovery (which can be overridden) to pass data amongst themselves.
How it works
The task of reading data from the sensors is now handled by our new sensor block. Instead of installing separate drivers and using custom code for each type of sensor, the sensor block utilizes Industrial IO (IIO) and relies on the variety of sensor drivers already included in the Linux kernel itself. (You can learn more about the sensor block and its use of IIO in this recent blog post.) This means balenaSense now supports a wider variety of sensors as well as multiple connected sensors.
Currently, only I2C sensors that are not mounted on a HAT are supported by the sensor block. This means 1-wire sensors, the Raspberry Pi Sense-HAT, and Pimoroni Enviro+ Air Quality HAT are no longer supported by balenaSense.
The indoor air quality (IAQ) readings in previous versions of balenaSense were dependent on propriatery software that had recurring breaking changes. On multiple occasions, the entire project was broken while new changes were investigated and merged. In addition, to obtain accurate air quality readings on the BME680, specific burn in procedures are required that balenaSense did not support. For these reasons, air quality readings are no longer a part of balenaSense.
balenaBlocks and extensibility
balenaBlocks are open source and extendable! We're looking into non-proprietary ways to support air quality readings and sensors on HATs: PRs are welcome! We believe that this block-based balenaSense is a more flexible solution overall, and a better base for adding more features as time goes on. If there is a feature that you want to see reinstated, please add an issue on the repo.